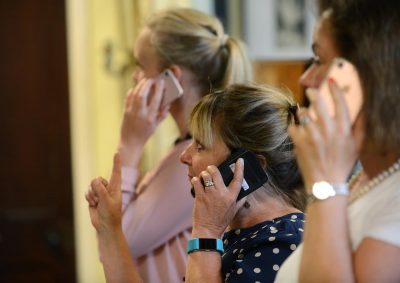 Buying at a Charterhouse auction is a very simple process. You have five options;
1) Bid online. We run two bidding platforms at the Classic TT– Easy Live Auctions allow you to bid on line here, and charge you £3 per auction, or 3%, which you choose on registering for the auction. Our other buying platform is the-saleroom.com  here. They will charge you 1% per auction. Please note these are in addition to our usual fee as below.
2) Come along to the Classic TT auction, view the lots, speak to our helpful and friendly staff, register for the auction with the accounts department, and stay to bid in person. The advantage of this is you will get to see what you are buying! You can look at the lots, make sure you are happy with the condition and check the documentation. If you decide to come along in person please bring two forms of identification – ideally a driving licence, and a debit card that you can also pay with. We need proof of who you are, and where you live, so bear this in mind when you come and see us.
3) Come along to the auction, as above, but don't stay to bid – tell us how much you want to bid up to, and we will do it for you. The other people at the auction don't know who is bidding, and you may find it less stressful/ tempting! Please bring your ID, as outlined above.
4) Call us, speak to us about the vehicle, ask our professional opinion, ask for extra photos if you wish, or more information. Please bear in mind that if you decide to bid without coming to see us, we will ask for a deposit equal to 10% of the lower estimate to prove that you really are interested. If you are successful, this will go towards your payment for the vehicle. If you are not successful this will be refunded in full, minus any charges your card provider makes, within two working days of the end of the auction.
5) If the vehicle is of sufficient value you can choose to have a telephone bid. We do ask for a covering bid which will only be used if we are unable to reach you by phone. With a telephone bid you can hear some of what is happening in the saleroom, speak to your member of staff, and be sure that you do not miss your lot.
So, what do we charge? If you bid for a vehicle at one of our auctions, full charges are in our terms and conditions. But, to summarise, you will pay the hammer price plus the buyer's premium. At the Classic TT auction the buyer's premium is 12% of the hammer price. We have to charge 20% VAT on the premium (not the hammer price) so the premium and the VAT together are an extra 14.4% on top of the hammer price in total.
After the sale is over, you will be free to take your vehicle once you have paid in full. Staff will there to help you where necessary. We have limited ability to store vehicles after the auction, please be prepared to pay for it and remove it within three working days. Alternatively we recommend transportation by Chas Mortimer Ltd, worldwide motorcycle transportation who you can contact here. Please feel free to contact them before the auction to check availability.
We aim to make the whole process of buying transparent and easy. If we can help you in anyway. please do ask. We have been doing this for a long time, so we understand that what seems clear and obvious to us may not be so to you , and we are happy to help in any way we can. Please be aware that bidding creates a legally binding contract – make sure you are happy about what you are bidding on, and we will do the rest.
Good luck – and we look forward to welcoming your bids at the Classic TT auction.